This post may contain affiliate links, purchases made through affiliate links may provide a commission for us, at no extra cost to you.
Vinegar Mixture is one of the best solutions to wash car seat covers. You need the following easy-to-find household items:
Vinegar has antibacterial properties and helps kill odor. A mild detergent will create foam and help in removing grease and stubborn stains. Warm water will help soak up stains and make them easier to clean. I always apply natural upholstery fabric conditioner after washing my car seats and recommend too. If your seat cover requires extra cleaning, you can always remove and wash it. You'll have to reinstall the seat covers properly. Get professional help for installation if you want.
Read my guide on Best F150 Seat Covers here.
My guide to best seat covers for ram 1500 here.
Here's my guide on how to claim free loaner cars from dealership.
You want to have different types of seat covers for different weather conditions and their cleaning process is also different.
How To Clean Car Seat Covers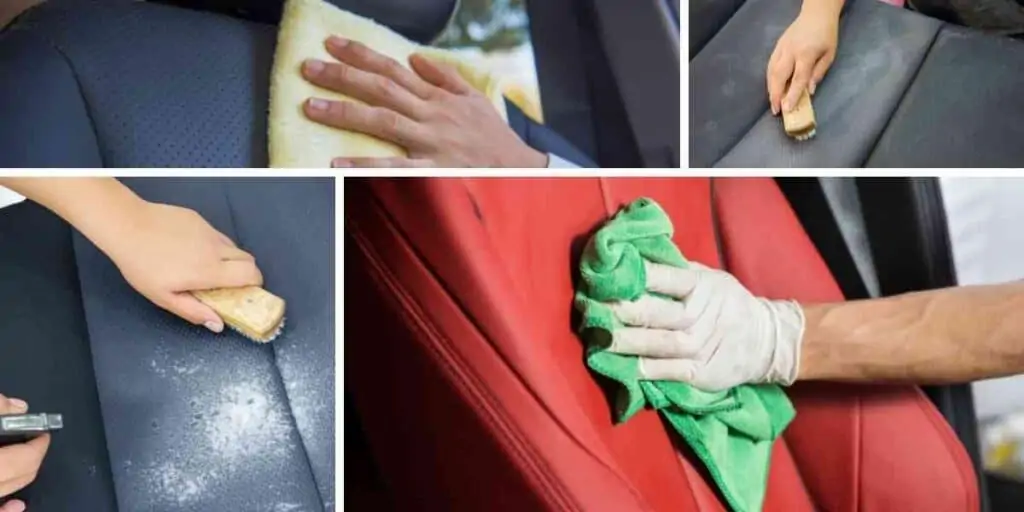 Read my tips on how to keep luggage dry in truck bed here.
How To Clean Pure Leather Seat Covers
Pure leather comes in four main types, Aniline, Semi-Aniline, Full-Grain and, Corrected Grain leather. I recommend having a bottle of car interior leather treatment in your car for accidental spills or stains.
Step 1
Start with vacuuming any dirt or debris. Using the spot cleaning method to remove the stain, then apply a small amount of non-gel toothpaste to the stains. Gently but firmly scrub the stains using a toothbrush. After this, use a microfiber cloth to wipe off the toothpaste.
Step 2
Now that you have removed the stains, it is time for thorough cleaning. In small sections, using a vinegar mixture, spray the solution on a microfiber cloth and wipe the leather seat covers gently. Spraying directly on the leather seats is not a good idea as moisture trapped in cracks or tears will eventually cause dampness and odor.
Step 3
After cleaning it's time to dry. Use a dry towel on the surface making sure to absorb all moisture. Finally, leave the leather seat cover to air dry and eliminate any odor or moisture left behind.
Always apply non toxic leather conditioner after cleaning your leather car seat or car seat cover to enhance durability.
Do you know when to use high-beam and low-beam headlights? Here's my complete guide.
How To Clean PU Leather seat covers
For cleaning faux leather seat covers, you need the vinegar mixture. To remove set-in stains, you need rubbing alcohol, warm water, and mild dish detergent. And applying a specialized leather conditioner is highly recommended to give maintain a fresh look.
Step 1
Mix equal parts of warm water and alcohol in a spray bottle. Add a dash of mild dish detergent and shake well. Spray the mixture on a piece of cloth and dab on the stain. If stains are persistent, I keep repeating this method until they disappear. Before using the mixture, I would advise testing it on a small section of the seat cover to ensure it does not cause any damage.
Step 2
Spray a little amount of the vinegar solution on a piece of cloth, and clean the rest of the surfaces by wiping gently. I find that working in smaller sections is the best way to go about it.
Step 3
Air dry to prevent moisture and odor accumulation.
Are you taking good care of your engine? Here's why antifreeze coolant is important for your car.
Read my guide to the correct method of measuring truck bed here.
How To Clean Neoprene Car Seat Covers
Neoprene is a material substitute for rubber known as polychloroprene. Just like rubber, the neoprene seat cover is completely waterproof. This natural neoprene cleaner can come handy for quick treatments.
Step 1
For pre-cleaning, either vacuum lightly or dust with a cloth.
Step 2
Use a mixture of mild soap and warm water. I find that laundry detergent works best in this case. I use a microfiber cloth or a sponge to scrub the seat covers.
Step 3
Use clean water to rinse any excess detergent before using a towel to dry. Keep wringing the towel several times until most of the water is absorbed.
Step 4
Finally, leave the covers to air dry.
Here's why your car AC smells like vinegar.
How To Clean Heated Car Seat Covers
A heated car seat cover can make cleaning easier. I have found that using this feature to pre-warm the seat before cleaning is much easier. I keep this awesome all purpose cleaner in my car for quick cleaning.
Step 1
Pre-warm the seats to allow the fabric to absorb the cleaning solution better and loosen any stains or dirt.
Step 2
I sometimes vacuum to get the dirt out. However, this is optional.
Step 3
Use the vinegar solution or mild detergent and water to clean the surfaces, working in small sections.
Step 4
The final step is to use a dry cloth to absorb as much moisture as possible and then leave it to air dry.
Read my guide on the pros and cons of cam phaser lockout kit here.
How To Clean Cotton Car Seat Covers
Cotton seat covers can stain easily and therefore needs a bit of care and regular cleaning. Get one of those cotton multi-purpose fabric cleaners to be on the safe side. See details here.
Step 1
Start with pre-cleaning by using either a vacuum or a piece of cloth to dust and remove any particles of dirt or other materials.
Step 2
Use a baking soda solution or club soda to remove stains. In a spray bottle, I mix 1 cup of warm water and 1/4 cup of baking soda. Then spray the mixture on the stain and let it sit for about 10 minutes. Alternatively, you can use the same method but with club soda. Club soda is known to have potassium bicarbonate and potassium citrate minerals that react on stains.
Step 3
Apply the vinegar solution and gently scrub through all the seat surfaces until clean. Wipe away any moisture using a clean cloth before leaving to air dry.
Read here how much did the car salesman make selling your car.
How To Clean Canvas Car Seat Covers
Canvas seat covers are durable and are good at protecting seats from mad and dirt. All-weather surface cleaners are really helpful for canvas car seat cleaning. See details here.
Step 1
Vacuum the covers to remove any loose debris. Alternatively, if they are detachable, remove the seat covers altogether.
Step 2
Using a low-pressure hose, apply running cold water to remove any dirt left.
Step 3
For stain removal, use cold or lukewarm water and a mild soap solution. Soak the covers for a few minutes before using a brush to scrub off the stains. It's important to note that detergents can eventually cause the color to fade on a canvas. If the stains are persistent, soaking overnight does the trick. Read how to keep seat covers from fading here.
Step 4
Air dry the covers by hanging them or laying them flat. It ensures that the covers are completely dry before putting them back on the seats.
Is your car leaking oil? Here's some common reasons and here's how to fix low oil pressure issue quickly.
How To Clean Plastic and Rubber Car Seat Covers
Plastic and rubber car seat covers are perhaps the easiest materials to clean. Both plastic and rubber are waterproof. In some car seat covers, you will bind that an absorbent material is used to bond either of the two. Plastic restorers are highly recommended after cleaning plastic seat covers.
Step 1
Vacuum lightly to remove any loose dirt.
Step 2
For plastic and rubber, use a damp cloth with mild soap or detergent in a bucket. For stain treatment, mix 1/4 cup hydrogen peroxide and water. Apply the mixture using a sponge and let it sit for a few minutes before scrubbing.
Step 3
Use a dry towel to dry off any excess moisture and soap. PVC and rubber do not require a lot of time to air dry.
Step 4
Use a small amount of coconut oil or olive oil on a cloth to apply shine.
Is your car humming while driving? Here's my quick fixes. And here's why your car won't start after getting gas.
Everything about car seat covers is worth the time and money. Get covers for your newly bought vehicle and save the hassle of maintaining the original upholstery.
Safety Precautions Before Cleaning Car Seat Covers To Avoid Damage
Before getting into cleaning the car seat covers, there are a few safety precautions points to put in mind:
Avoid using harsh detergents. Acidic-based detergent can discolor your fabric.
Avoid Bleach. Removing stains by using bleach might seem like the best option. However, bleach might discolor or damage the fabric making it prone to cracks and tears.
Air-dry the covers completely to avoid dampness which causes odor.
Ensure you wipe the metallic and plastic parts of the car seat to prevent moisture from causing rust. Don't forget to clean the latch straps.
Use a soft brush on cloth car seat covers and a microfiber cloth on leather seats. Bristles can cause tears and scratches on the seat covers.
I hardly allow any stains to set. This means I clean as soon as I see the stains.
Refer to the car seat cover fabric label or tag. Different fabrics have different cleaning solutions and methods.
Don't underestimate the oils. Here's why you shouldn't use 5w30 instead of 5w20.
How To Protect Car Seat Covers From Wear and Tear
Avoid direct sunlight. I achieve this by ensuring that I park my car under a shade and my windows are tinted.
Avoid food and drink spills in the car.
Crack your window open just a little bit to allow cooling air inside the car on hot days.
Do not use bleach and harsh chemicals on seat covers. Bleach and harsh chemicals can discolor and weaken the seat cover causing it to tear.
Ensure your car seat covers are completely dry before putting them back on the seats.
This is what my buddy at told me about best oil for 3.5 ecoboost.
How To Wash Car Seat Covers FAQ
Here's why you can't buy a car with cash without filing IRS form 8300.
This is how to wash car seat covers. DIY solutions and cleaning the car seat covers will help save money since you will be using household items. It also saves time and offers protection against damage from using harmful chemically processed commercial products, since now you know how to clean car seat covers. Essential oils like peppermint, lavender, or rosemary, keep your car seat covers smelling fresh and safe.
Don't forget to read about h7 and h1 headlight bulbs before leaving. And also don't neglect your engine click noise, here's my guide. Here's why your car won't stay running. Before I forget, this is how you check your alternator and battery issues. I settled the debate between Castrol and Pennzoil here.
Read how to remove car seat covers properly here. Remember, seat covers should be perfectly fitted to your car to avoid dangers.