This post may contain affiliate links, purchases made through affiliate links may provide a commission for us, at no extra cost to you.
Are you confused about getting the seat cover for your newly bought car? Asking why people buy seat covers for a new car? Before we jump into the types of car seat covers available, let's take a look at the reasons why there are different car seat covers. Car seat covers are made to suit your needs depending on your budget, your taste or preference, and the purpose you want the car seat cover to serve. This puts the needs of the buyers into consideration. There are also car seat covers tailored to suit the weather and environmental conditions.
So whether the reason is to;
Give the buyers the satisfaction of choosing what they want,
The feeling of comfort
To cater to durability
To give the exotic interior feeling
To suit the car interior
For car seat maintenance purposes
To align with the weather conditions of a particular region
To allow commercial drivers to go for something more fitting
or any other reasons not mentioned in this article, you can say that there are many types of car seat covers to cover so many occasions and needs! Sounds funny right? Not intentional!
Types Of Car Seat Covers
There are various types of car seat covers based on different things like how it was made, the purpose of the seat covers, the materials used, the designs and thoughts put into place in the making, the weather condition of your area, etc and we are going to check out all these in this post.
Types of Car Seat Covers Based on Fittings
Custom-fit Car Seat Covers
Semi-Custom-fit Seat Covers
Universal Car Seat Covers
Custom-fit Car Seat Covers
Custom-fit car seat covers are designed to fit a particular car seat. They come customized and don't interfere with or hinder anything that is already in the car. Custom car seat covers rank as the most expensive when compared to others in the same category because it is tailored according to the designs and the make of the car. Custom-fit covers are the safest for your vehicle.
Semi Custom-fit Car Seat Covers
These are mostly made to cover a specific type of seat in a specific set of cars. For instance, you can just order a car seat cover for Toyota Brand and that same car seat can go for all the Toyota cars in that category. This is less specific and expensive when compared to Custom fit car seat covers.
Universal Car Seat Covers
These are usually what they are: Universal, and when compared to their counterparts, are the least expensive and fit most car seats in any vehicle unless you are using an exotic sports car or a classic car.
Nevertheless, it is important to note that universal car seat covers sometimes interfere with the deployment of airbags as they are built to fit a variety of cars, thereby can shroud the entire seat, diverting the opening of the airbags in an event of an accident which can lead to more injuries.
Types Of Car Seat Covers Based On Material
The weather conditions of every region differ and that affects decisions when making a purchase. The choice you will make for your car seat covers when living in a cold region is not the same as when you are living in a hot region. These differences in weather are reflected in the different types of materials used to manufacture car seat covers.
What are the different materials used for seat covers?
Leather Car Seat Covers
Vinyl Car Seat Covers
Fabric Car Seat Covers
Leather Car Seat Covers
Leather car seat covers have this premium attention to the eyes, feel and finish. It looks expensive and is expensive when compared to others in the same category.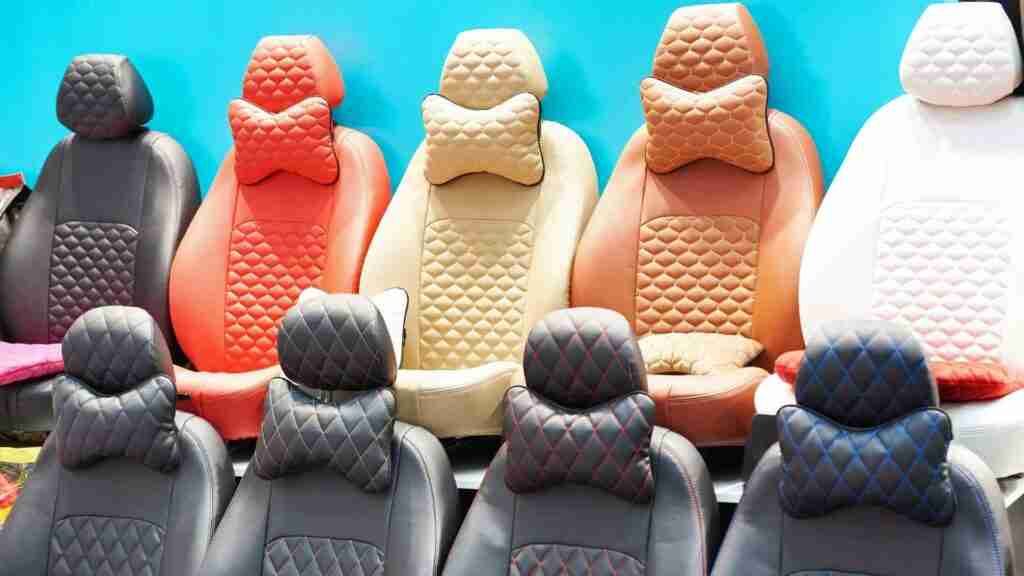 They are best for those who take pride in their car, durable though harder to maintain.
According to a survey carried out by Researchgate on the usage and satisfaction of car seat covers, the reason for the satisfaction from seat covers differs according to materials, and genuine leather materials were rated high as regards interior and exterior harmony at 20.8% with excellent seat sensation of 17.7%.
This result is different when measured with other less genuine leather materials.
However, the best case usage of Leather car seat covers is for those in colder regions as its ability to generate warmth can be stifling, hot and uncomfortable, in hot weather or environment.
Vinyl Car Seat Covers
Vinyl is a type of plastic made from chlorine (this is found in regular salt) and ethylene (found in crude oil) and when combined and processed forms vinyl. They are a cheaper option when compared to leather materials.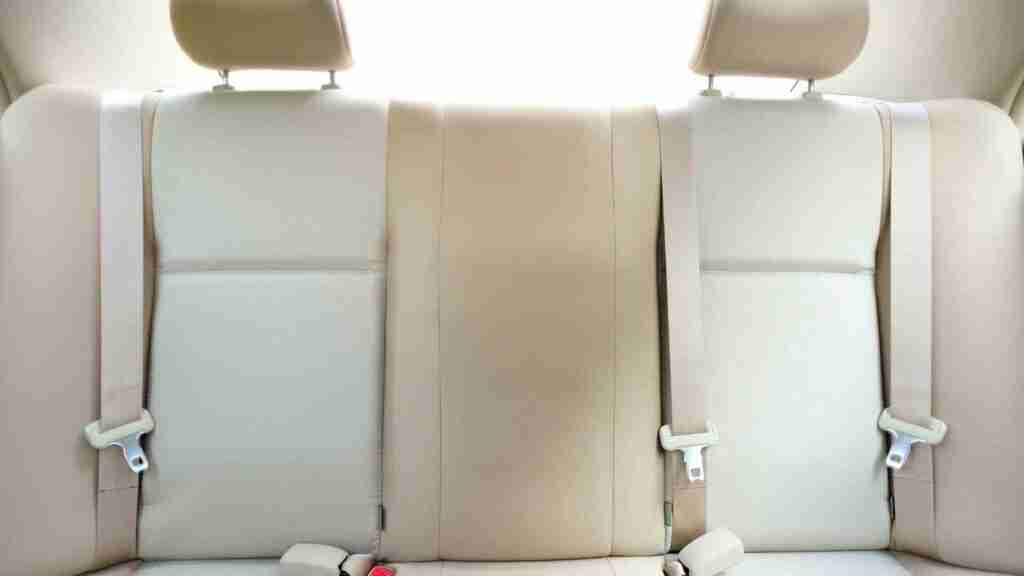 Most middle-class earners who would otherwise prefer leather car seat covers but because of the pricing sometimes opt for vinyl seat covers because;
They look authentic
Their finished products are available in many designs,
They are resistant to water and related spillage
Cheaper to maintain when compared to leather
This goes a long way to prove that vinyl seat covers serve as a middle ground between Leather car seat covers and Fabric car seat covers in pricing, comfort, features, and designs.
However, vinyl car seats are not suitable for hot weather environments, because the material is waterproof, it doesn't breathe thereby one can get sweaty back after sitting on a vinyl car seat cover for a while in hot weather and also when under the hot sun, the seat can get really hot!
Fabric Car Seat Covers
Fabric materials are the easiest to maintain and more economical when compared to those under the same category. Fabric, in reference to the previously mentioned survey by Researchgate, had an excellent seat sensation of 12.3% and economics of 10.8%.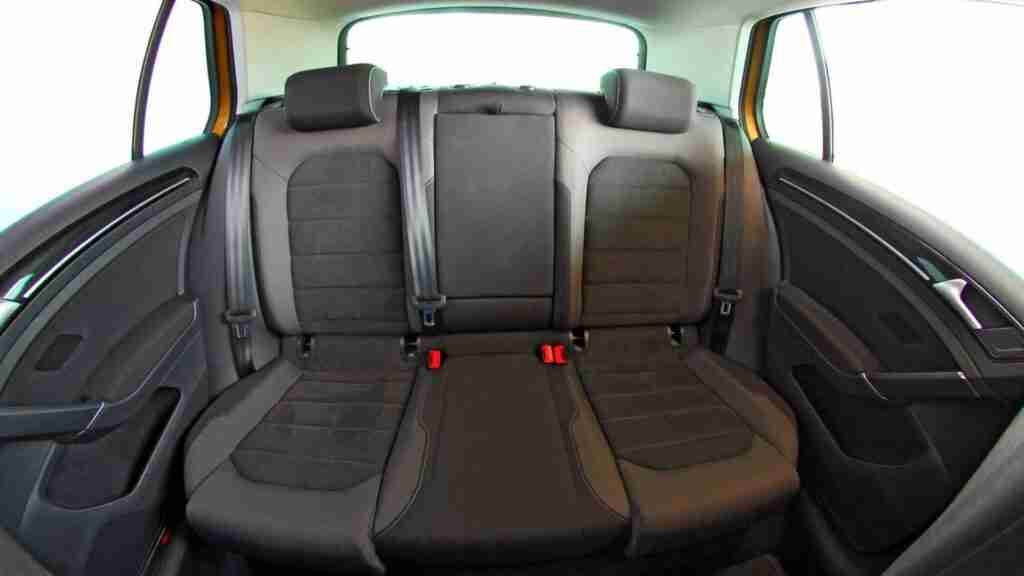 According to Market Insights Report Summary by Stratview Research, Fabric material car seat covers have the projection of holding the market share.
This report analysis shows that the reason for this trend is that the material has preferable features of being sensitive to weather factors, easy to maintain, higher resistance to wear and tear, and high durability.
The majority of middle-class economy car users go for fabric car covers to suit their comfort and economic standard.
All the findings in the report concluded that the fabric material, though being the least attractive of the lot, is suitable for most weather conditions, pocket friendly, and comfortable though it can get messy real quick!
Fabric car seat covers are made from different materials such as;
Polyester
Neoprene
Velour
Polyester Car Seat Cover
Polyester is a synthetic fabric derived from petroleum. It dries quickly, is resistant to wrinkles, light weighted, durable, strong, and resistant to abrasion.
Neoprene Car Seat Cover
Neoprene is a general-purpose synthetic rubber. It is durable, resistant to water, chemicals, high temperature, and UV rays, and thermally stable though it can absorb water over time.
Velour Car Seat Cover
Velour, sometimes referred to as rough natural leather, is a knitted fabric or textile made from cotton or synthetic materials just like polyester. It is soft, moderately breathable, and plush, its absorbency nature varies on the material used. Velour is great for machine washing.
Wrap Up
Sometimes car seat covers are classified mainly because of their design or color match. Some car seats are manufactured with extra padded foam for the headrest as well as the backrest (towards the back region) for comfort.
Car seat users sometimes go for seat covers that look like designer car seats irrespective of the material used or the fit for their car, they put it on by themselves or with professional help. just because of the beauty it offers the interior of their car. This type of car seat is mainly for comfort, beauty, and aesthetic value.
Worried about a dirty car seat cover? Read how to wash car seat covers and don't forget to learn how to remove a car seat properly before that. Is your car seat cover fading? No worries, we got you covered.
Thank you for taking the time to read this article, I hope this guides you in your journey to pick the perfect car seat cover just for you! Still confused? Just head over to the best car seat cover buying guide for F150 and Ram 1500 here.